Partner with Aztec Fire & Safety to protect your restaurant from dangerous fires.
What's your highest priority as a San Diego area restaurant owner or manager? You probably place a good deal of emphasis on food safety and customer satisfaction, but don't overlook the importance of fire protection to your restaurant. Make sure you partner with Aztec Fire & Safety to plan and implement a restaurant fire safety plan to protect your business. Restaurant fire safety services from Aztec include: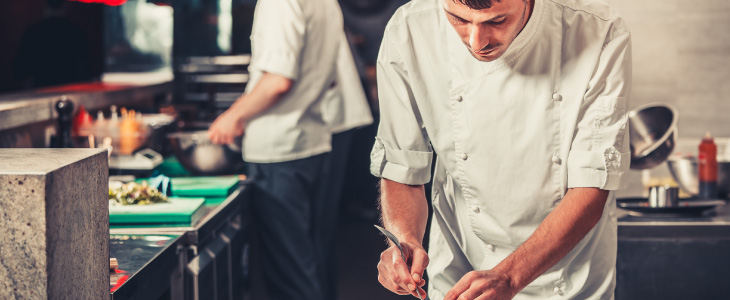 A fire can devastate your business. The NFPA reports that more than 7,600 fires break out in eating and drinking establishments across the country each year. These blazes result in hundreds of injuries and $246 million in property damage. From the cost of repairing fire damages to the lost revenue experienced during a closure, fire cuts into your bottom line and could potentially sink your business.
Tips for Successful Restaurant Fire Safety
Install a Kitchen Hood Suppression System. Nearly 60% of restaurant fires involve kitchen equipment, so a kitchen hood suppression system is your first line of defense against a devastating fire.

Keep Backup Fire Extinguishers on Hand. You'll need Class K extinguishers in the kitchen for fires involving grease and fats, and Class ABC extinguishers everywhere else for other types of fires.

Schedule Regular Inspection and Maintenance. Following the NFPA inspection, testing, and maintenance schedule for your restaurant fire safety system will ensure that your equipment is working correctly to protect your restaurant from fire.
Don't lose your business to a kitchen fire. Call Aztec Fire & safety at (619) 464-5625 today to be sure your restaurant fire safety system is up to date and working at peak efficiency.
Why choose Aztec? Aztec Fire & Safety has served the restaurants and commercial kitchens of San Diego County and surrounding SoCal cities for more than 20 years. Our extensively trained technicians are licensed and certified to meet restaurant fire safety needs. Our licenses include:
Fire Protection License E

CA Electrical License C-10
CA Electrical License C-16

CA Fire Extinguisher CALSAFE