Your sprinkler system is your first line of defense during a fire; make sure it works!
It's incredibly important to have a commercial fire sprinkler system installed in your San Diego area building. According to NFPA statistics manufacturing facilities, stores, offices, and healthcare facilities with a working fire sprinkler system experience 60% fewer damages from fire than buildings with no fire sprinkler system. To ensure that your sprinkler system is correctly installed and working as it should be, rely on Aztec Fire & Safety for fire sprinkler: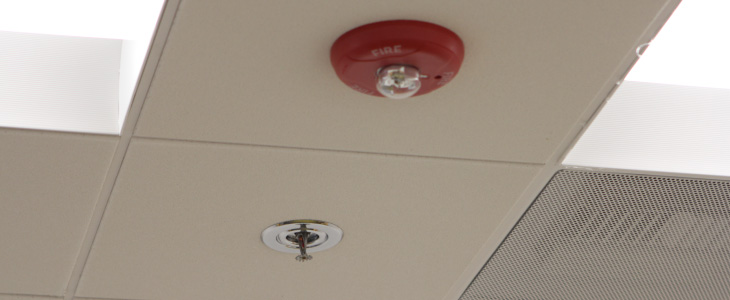 Maintaining your fire sprinkler system
Inspection and maintenance of your fire sprinklers are required by NFPA and local law on monthly, quarterly, semiannual, annual, and five-year bases. The most obvious benefit of regular inspection and maintenance of your sprinkler system is the peace of mind you get knowing that your building is protected in the event a fire occurs, however there are other significant benefits as well. Fire sprinkler inspection and maintenance can extend the life of your sprinkler system, saving you money in replacement costs. Regular inspection and maintenance also improve your fire sprinkler system's reliability and reduce the likelihood of needing costly repairs.
Rely on the experienced professionals at Aztec Fire & Safety for expert fire sprinkler installation, inspection, testing, and maintenance. Call us at (619) 464-5625 today!
Why choose Aztec? We've proudly served San Diego County and surrounding SoCal cities for more than 20 years. Our licensed technicians have to knowledge and experience to keep you fire sprinklers in perfect condition at all times, so you don't have worry. Aztec Fire & Safety maintains membership in good standing with multiple fire safety industry organizations to be sure that we are always up to date on industry developments and continuing education. Our memberships include:
American Fire Sprinkler Association

National Association of Fire Equipment Distributors
National Fire Protection Association

San Diego Fire Protection Association