Ensure the safety of your property, employees and customers with fire inspections from Aztec Fire & Safety.
Whether it's a school, hospital, industrial complex, government building, or other commercial building, your fire safety equipment is essential to maintaining safe conditions in your building. You never want to experience a fire or gas leak and find that your fire safety equipment isn't working to its full potential, so it's important to have your fire safety equipment inspected regularly. Aztec Fire & Safety performs comprehensive fire inspections in all public buildings throughout San Diego County and surrounding SoCal communities.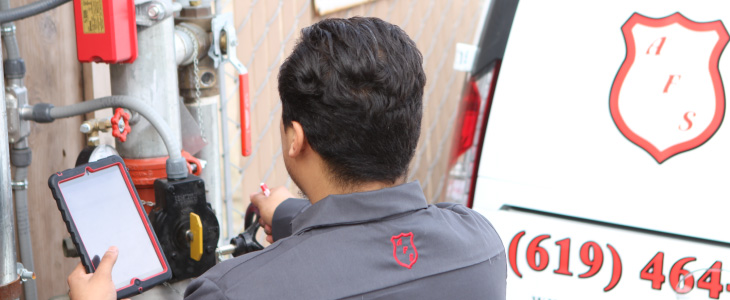 We inspect all aspects of fire safety, including:
Sprinkler Inspection. NFPA regulations require annual fire sprinkler inspection in order to keep your building safe. You should also have your sprinklers inspected every time you have major plumbing or layout changes in your building, or experience drought conditions.

Alarm Inspection. Aztec's fire alarm inspection includes thorough inspection of all components, including the control panel, bells, elevator and door controls, smoke and heat detectors, and batteries and electrical wiring.

Extinguisher Inspection. We perform routine fire extinguisher inspection, testing, and maintenance the ensure your extinguishers meet all NFPA and local regulatory requirements.

Commercial Kitchen Inspection. A fire can mean the end for a successful restaurant, so rely on Aztec to perform regular inspections on your restaurant kitchen fire suppression system and be sure that it will detect and stop a fire before it ruins your business.

Emergency Lighting Inspection. To be sure everyone can safely evacuate during an emergency, your emergency lighting inspection from Aztec covers all aspects of your emergency lighting, from the batteries to the bulbs and all the wiring between.
Aztec Fire & Safety is San Diego's source for expert fire safety inspections. Call us at (619) 464-5625 to schedule today!
Why choose Aztec? Having served the San Diego area for more than 20 years, the fire safety professionals at Aztec Fire & Safety have better training, better tools, and better technology at our disposal. We are licensed to perform comprehensive fire inspections and all other fire safety services you may need.