Partner with Aztec to keep your hotel guests and staff safe during a fire.
A hotel, motel or recreational facility can pose fire safety challenges. Aztec Fire & Safety is here to help you address every potential fire threat with commercial fire protection. Trust us to install, maintain, test, and inspect your San Diego area hotel fire safety system.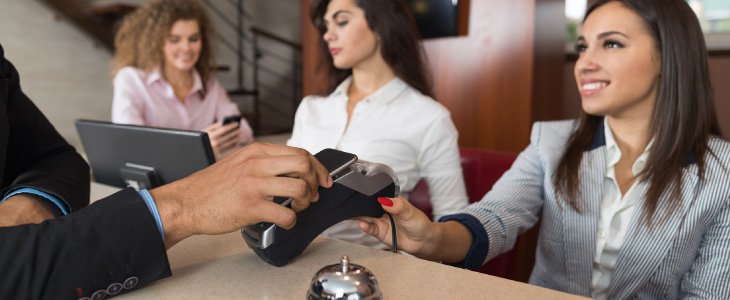 By far, the most common cause of fire in hotels and event centers is kitchen fires. Cooking oils are highly combustible and can go up in the slightest moment of inattention. However, in a building filled with travelers and support staff who are coming and going at all hours, kitchen fires are by no means the only challenge to your hotel fire safety. Some other common fire risks that hotels face include:
Bottlenecked evacuation routes

Careless smoking by guests
Faulty heating and cooling equipment

Obstructed or cluttered exit routes

Sparks from laundry rooms
Fire Safety Code Requirements for Hotels
Sprinkler System. It is advised that all hotels and hospitality centers should have sprinkler systems as part of their hotel hire safety plans.

Smoke and Fire Alarms. All hotels, convention centers, and community spaces must have smoke detectors and fire alarms to alert occupants to the presence of danger.

Automatic Alarm System. An automatic alarm system is an important element for hotel fire safety as it not only monitors all aspects of your fire safety system, but automatically alerts the fire department if smoke, fire, or gas leaks are detected.

Exit Signs and Emergency Lighting. Lit pathways to emergency exits are crucial during a fire, making them a necessary element of your hotel fire safety system.
With more than 20 years of industry experience, Aztec Fire & Safety is your choice for hotel fire safety. Call us now at (619) 464-5625.
Why choose Aztec? As members of the NFPA, NAFED, AFSA, and the San Diego Fire Protection Association, Aztec Fire & Safety has the education and experience to meet your hotel fire safety needs. We hold the following fire safety licenses:
CA Electrical License C-10

CA Electrical License C-16
CA Fire Extinguisher CALSAFE

Fire Protection License E