Fire safety in commercial kitchens
As someone who operates a commercial kitchen such as those found in restaurants, schools, and healthcare facilities, you know how important it is to have a quality kitchen hood suppression system in place. Even the smallest kitchen fire can be disastrous. But with Aztec Fire & Safety on your side, you can breathe easy. Our licensed fire safety professionals have years of experience in kitchen hood suppression system: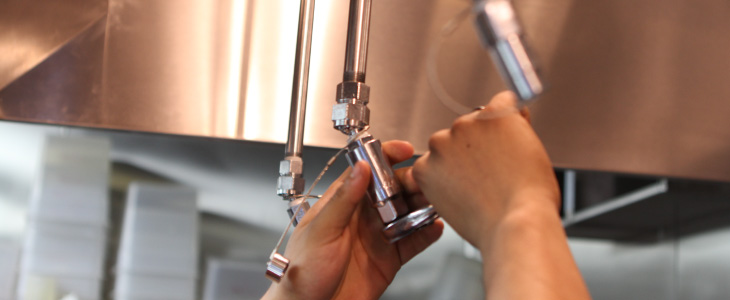 We are members of NFPA, NAFED, and the San Diego Fire Protection Association so we can be sure that we are up to date on all aspects of fire safety, from new technology to changes in fire safety code, and we use our knowledge to keep your kitchen fire suppression system in top working condition for your protection.
NFPA Guidelines for Kitchen Hood Suppression System Inspections:
Quarterly. Kitchens that operate 24 hours a day, or that produce high volumes of food, such as in hospitals, truck stops, and 24-hour restaurants, should have their fire suppression systems inspected quarterly to prevent the risk of flash fires.

Semi-Annually. Kitchens that operate for only a few hours per day or prepare more moderate volumes of food, such as in sit-down restaurants and school or business cafeterias, should have their kitchen hoods inspected twice per year to ensure they are working at peak efficiency.

Annually. Kitchens that do not operate daily or produce high volumes of food, such as in churches and community centers, should have their kitchen hood suppression systems inspected once per year to stay compliant with all NFPA and local fire safety codes.
With more than 20 years of experience protecting San Diego area commercial kitchens and restaurants, you know you can count on Aztec Fire & Safety. Call us now at (619) 464-5625.
Why choose Aztec? Aztec Fire & Safety has served San Diego County restaurants and commercial kitchens from the same location for more than 20 years, and we plan to be here for many years to come. Our mission is to protect lives and property by helping our commercial customers maintain compliance with Fire Safety and Life Safety Codes.