When an emergency arises, make sure the path to safety is clearly marked with exit signs.
If you manage a business, school, hospital, apartment community, or any other public building in San Diego and surrounding SoCal cities, you know how important it is to have proper emergency lighting and exit signs throughout your building. Owned and operated by a fire safety professional with nearly 35 years of industry experience, Aztec Fire & Safety is here to help you with your fire protection and safety needs. We provide expert exit sign and emergency lighting sales, service, inspection, and testing throughout the San Diego area. Our technicians have better training, better tools, and better technology to ensure that you receive better service than with any other fire safety company.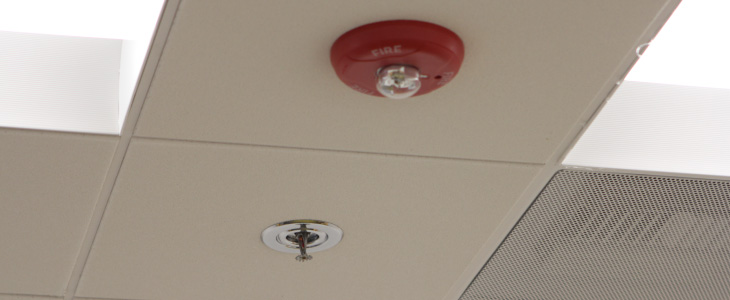 Why You Need Exit & Emergency Lighting
Emergency lights and exit signs are essential for maintaining a safe environment. When an emergency situation arises, from a simple power outage to a life-threatening fire, exit signage and emergency lighting provide a clear, easy to follow pathway out of the building and to safety.
Rely on exit signs and emergency lighting from Aztec Fire & Safety to:
Facilitate Timely Evacuation
Fire Safety Code Requirements for Hotels
Sprinkler System. It is advised that all hotels and hospitality centers should have sprinkler systems as part of their hotel hire safety plans.

Smoke and Fire Alarms. All hotels, convention centers, and community spaces must have smoke detectors and fire alarms to alert occupants to the presence of danger.

Automatic Alarm System. An automatic alarm system is an important element for hotel fire safety as it not only monitors all aspects of your fire safety system, but automatically alerts the fire department if smoke, fire, or gas leaks are detected.

Exit Signs and Emergency Lighting. Lit pathways to emergency exits are crucial during a fire, making them a necessary element of your hotel fire safety system.
Don't be left wandering in the dark when emergency strikes. Call Aztec Fire & Safety at (619) 464-5625 today to ensure that your building has the emergency lighting and exit signs it needs.
Why choose Aztec? We have proudly served Southern California businesses, schools, hospitals, and apartments (just to name a few) for over 20 years, meeting exit signage and emergency lighting needs. We hold the following licenses and professional memberships to ensure that you can always count on Aztec Fire & Safety for your exit signs and emergency lighting:
CA Electrical License C-10

CA Electrical License C-16
Fire Protection License E

San Diego Fire Protection Association