Partner with Aztec Fire & Safety to ensure your government building is safe from fire.
Aztec Fire & Safety proudly provides commercial fire protection services for local, county, state, and federal government buildings in the San Diego area. From post offices and libraries to courthouses and municipal buildings, we offer comprehensive fire safety services includes installation, inspection, testing, and maintenance of all fire suppression equipment. So whether you need fire sprinkler installation, fire extinguisher recharge, or ongoing suppression system maintenance, choose Aztec as your fire protection expert.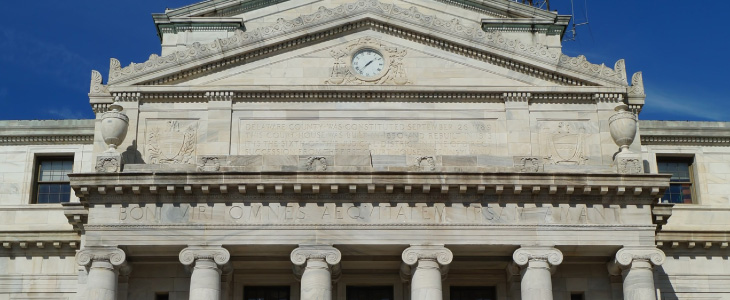 Our fire protection services for government buildings includes:
Fire Sprinklers. Sprinkler systems can prevent substantial damage by controlling a fire until the fire department arrives.

Clean Agent Fire Suppression. For the computer room or historical archive section of your government building, clean agent fire suppression is a better choice than water for extinguishing flames.

Fire Extinguishers. We can help you select and install the proper fire extinguishers for your government building.

Fire Alarms. Fire alarms immediately alert your occupants to the presence of smoke or flames, as well as alert the local fire department.

Exit Signs and Emergency Lighting. Illuminate the safest exits routes during an emergency with exit signs and emergency lighting.
Protect your government building with commercial fire protection from Aztec Fire & Safety. Call us today at (619) 464-5625.
Why choose Aztec? Our highly trained and knowledgeable technicians are licensed and certified to perform all fire safety services in government buildings in the San Diego area. Our licenses and memberships include:
San Diego Fire Protection Association
CA Electrical License C-10

CA Electrical License C-16

CA Fire Extinguisher CALSAFE

Fire Protection License E