San Diego's Fire Extinguisher Experts
According to the National Fire Protection Agency, fire extinguishers must be maintained annually and inspected monthly. With equipment as important as your fire extinguishers, you want to be sure that they are inspected and maintained by licensed professionals with ample experience.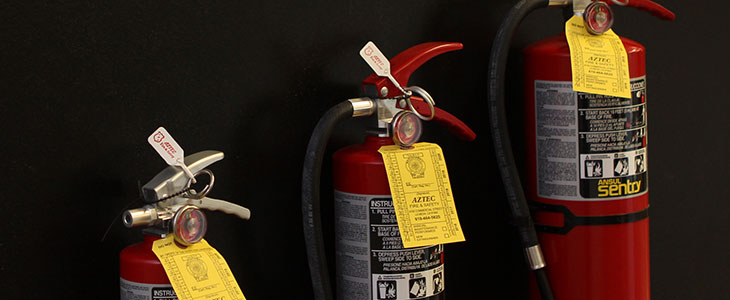 The team at Aztec Fire & Safety have served San Diego and surrounding Southern California communities for over 20 years. We boast technicians with better training, better tools, and better technology than our competitors. It's our  mission to meet your fire safety needs.
Rely on Aztec for:
Sales & Installation. Aztec carries a wide variety of fire extinguishers to meet your facility's needs, including standard ABC portable fire extinguishers, "Clean Agent" specialty application portable fire extinguishers, and high-hazard wheeled fire extinguishers.

Inspection, Testing and Maintenance. Aztec's licensed technicians perform routine fire extinguisher inspection, testing, and maintenance the ensure your extinguishers meet all NFPA and local regulatory requirements.

Recharging. Whether you've recently used your fire extinguisher or its most recent inspection showed low pressure, Aztec can recharge your fire extinguishers to give you peace of mind that they will effectively protect your property in the event of a fire.
Have confidence in your fire extinguishers. Call Aztec Fire & Safety at (619) 464-5625 today to make sure that you're never faced with a malfunctioning fire extinguisher.
Why choose Aztec? We maintain the following licenses and professional memberships to ensure that you can always rely on Aztec Fire & Safety for trusted fire extinguisher services:
CA Fire Extinguisher CALSAFE

Fire Protection License E

National Association of Fire Equipment Distributors
National Fire Protection Association

San Diego Fire Protection Association