Partner with Aztec to protect your build sites from fire damage.
Contractors in the San Diego area know all too well the many codes and laws that must be met during new construction projects. Electrical codes, building codes, plumbing codes, and of course fire codes. Fire codes from the NFPA and your local government outline the need for fire protection and guidelines for the placement of fire safety equipment within your new building.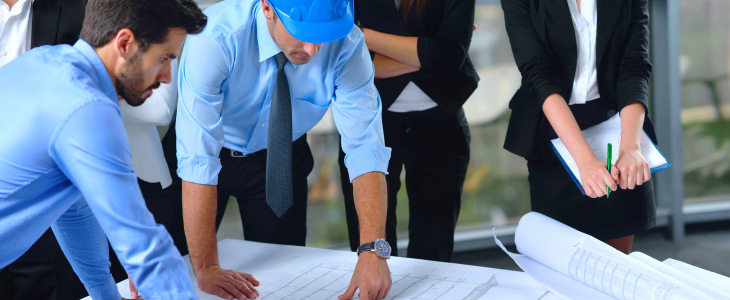 When you partner with Aztec Fire & Safety, we will work with you to design and implement a construction fire protection plan using the guidelines and fire safety code set out by the NFPA. We provide construction fire protection and safety equipment for all your facilities, job sites, and project specifications.
New Construction Fire Safety Services from Aztec
Fire Sprinklers. The number and type of fire sprinklers your building needs depends on what type of facility you operate. We look at every detail of the building, from pipe friction to elevation changes, and design a sprinkler system that provides optimal protection from fire.

Fire Alarms. We will design and install a fire alarm system for your new construction building that includes all the components you need, from smoke detectors and pull stations to sirens and strobe lights.

Kitchen Fire Suppression. If your new construction project is a restaurant, count on us to fulfill your commercial kitchen's special fire suppression requirements.
Protect your construction sites from fire with damages by partnering with Aztec Fire & Safety for expert construction fire safety. Call us today at (619) 464-5625.
Why choose Aztec? Founded in 1996 by a fire safety professional with more than 30 years of industry experience, we have proudly served contractors and construction companies in the San Diego area with expert fire protection services for more than 20 years.
Aztec Fire & Safety holds several licenses and memberships, including:
San Diego Fire Protection Association
CA Electrical License C-10

CA Electrical License C-16

CA Fire Extinguisher CALSAFE

Fire Protection License E